Home
Talk

0
42pages on
this wiki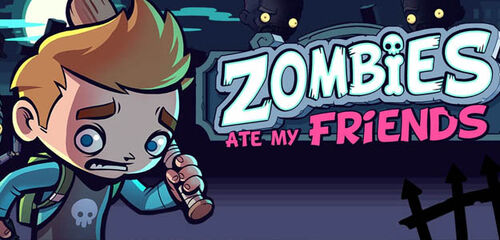 Welcome to the Zombies Ate My Friends Wiki!
This is a fan-made site with no association to Glu Games Inc.
Anybody can help this wiki grow!
Learn how to at our Community Portal.

Zombies Ate My Friends is a casual zombie survivor game created by Glu Games Inc. and Blammo Games Inc. for iOS and Android. You must race through the streets of the city, killing zombies, scavenging, staying alive,and most importantly, find a cure to this horrendous outbreak, all in a race against time as zombies pour out from the streets. Will you succeed? Or will you meet your untimely demise? (Glu Games Inc. advanced technology allows you to respawn at a nearby safehouse,thankfully)? Find out now in this thrilling survivor game! It can be downloaded from the Apple App Store and Google Play Store for free and played on the iOS 4.3+ and Android devices.
Information
|Weapons | |Supplies | |Equipment | |Characters | |Zombies | |Inventory | |Skills | |Achievements | |Map | |Customization | |Events | |Currency
Resources
Editor Notes
This is a wiki about the Zombies Ate My Friends app! Anyone can help, but please add honest information!! If you tamper with the site in any way, shape, or form, you will be blocked and I will send zombies after you. <3 ~OneStormyNight
Updates
---
Admin Update - 29, October 2013
I have been much too busy with another wiki of mine to work on this one at the moment. Therefore there will be no updates from me. If any of you would like to help out with this wiki, go for it. I will still be monitoring for vandalism and comments. Thank you all! -OneStormyNight
Version 1.3.0- 19, Sept 2013
Episode 10 added: Save Dr. Dexter and track down Cyrus for revenge!
New login rewards: earn items and weapons just for playing each day!
Bug fixes and game improvements

Version 1.2.0- 23, August 2013
New limited-time events with exclusive rewards: powerful weapons and equipment await!
Outbreak event starts soon! Join the event, and you can return to your current episode when it's done.
Compete to see who can collect the most green skulls! Get more from your friends, too!
Escape the zombie-filled hospital in the new Episode 9: Hospitalized!
New weapons and equipment!
Levels 21, 22, 23 added
Bug Fixes and improvements
---
Thanks for contributing to the wiki! :) --OneStormyNight
Featured Weapon
---
Not yet added :(
Polls and Voting
---
Ranged vs. Melee Weapons!
Do you prefer blowing off zombie heads or beating them up with a frying pan?